Big Learning News
Karen Cole's Guide to Real-World Learning with Kids
Issue 3:21 July 13, 2005
Visit BigLearning.org for past BLN issues, education headlines, and more!
Subscribe! Send a blank e-mail to join-big-learning-news@zoom.netatlantic.com

---
Table of Contents
Math Moment: Movie Ticket Prices and Graphs
Activity: PandaCam
Activity: Find a Potter Party
Book Review: Peterson's First Field Guides: Urban Wildlife
Current Events: War of the Worlds history

---
Movie Ticket Prices
It's not your imagination - movie ticket prices are nearly always on the rise. The National Association of Theater Owners has published this list of prices from 1948 through 2004.
http://www.natoonline.org/statisticstickets.htm
Your kids may enjoy thinking of paying 36 cents to see a movie. They can practice their table reading skills figuring out when the price crossed each dollar line.
To see the trends though, seems like a graph is in order. So I made one by pasting the data into a spreadsheet program. (If you don't see a graph here, you can see it at http://www.biglearning.org/news050713.htm#mathmoment.)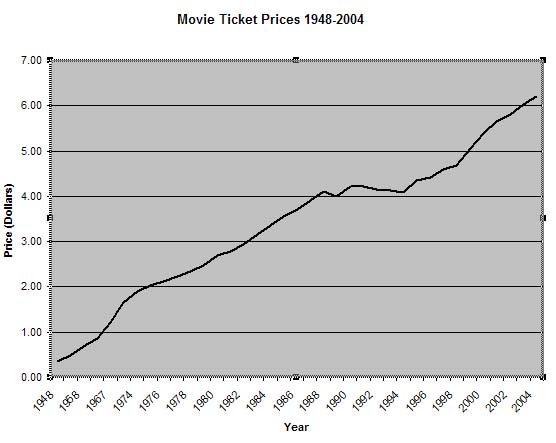 You can see from this that prices rose at a fairly steady rate, except when they leveled off in the late 80's and early 90's. Good chance to use vocabulary with your kids and talk about concepts of rate - change over time and slope, as well as practicing reading a graph that isn't all that detailed.
More math resources and our Math Moments archives on our Fun Math for Kids page on BigLearning.org - http://www.biglearning.org/big-learning-math-activities.htm
---
Ages 3 and up
http://nationalzoo.si.edu/Animals/GiantPandas/
or
http://animal.discovery.com/cams/pandavidr.html (easier to get through on this one)
Mei Xiang was snoozing when I last checked on her this morning. She's a new mother, so she has to grab her sleep when she can.
Mei Xiang is a giant panda at the National Zoo in Washington. She gave birth to a cub on July 9, and you can watch her (and the cub) on a live "PandaCam." You may not be able to see the baby for awhile though - all reports say it's about as big as a "stick of butter." The Panda page text is updated every few days to let us know how mother and baby are doing.
To handle the barrage of viewers - everyone wants to see the pandas - the zoo has set up a second viewing portal on the Animal Planet web site at http://animal.discovery.com/cams/pandavidr.html. So far I have only been able to see the panda on Animal Planet.
If your kids have questions or want to indulge their inner pandamaniacs, there's a good Pandas for Kids page at http://nationalzoo.si.edu/Animals/GiantPandas/PandasForKids/ with facts, pictures, and activities.
---
Activity: Find a Harry Potter Party
Are your kids looking forward to the July 16 release of Harry Potter and the Half Blood Prince? Many bookstores are hosting midnight release parties. If you would like to find one near you, this site has a huge listing of parties (2327 parties at press time). Click on your country on the right side of the screen to find a party near you.
---
Peterson First Guide to Urban Wildlife by Sarah B. Landry ( Houghton Mifflin, 1998)
Ages 8 and up
Field guides can be so overwhelming, what with the diversity of nature and all. This slim volume is just right for the casual naturalist, including about 250 of the species you are most likely to see if you live in a town or city. It includes starts small with viruses (interesting, but darn I forgot to bring my electron microscope so I'm not seeing a lot of these), and works its way through the animal kingdom. There's a short section of common plants at the end. Since we've had this guide in the house I've looked up and found several bugs and animals we observed, and found it quite handy.
Buying Information
More Nature and Science Books for Kids at http://www.biglearning.org/books-nature-activities-for-kids.htm.
---
Web Site
"War of the Worlds": Behind the 1938 Radio Show Panic
http://news.nationalgeographic.com/news/2005/06/0617_050617_warworlds.html
Adults or kids 12 and up.
In 1938, an Orson Wells radio drama about attacking aliens was taken for a real news report by some listeners, causing panic. The current War of the Worlds movie (rated PG) dramatizes this event, and your kids might be curious about the actual history. If you need to bone up, this National Geographic article tells the story, putting it in context with other events and trends of the day.
---
Changing Your E-mail Address? Don't Lose Your BLN Subscription!
Sadly, each week, BLN subscriptions are cancelled because the e-mail address no longer exists. If you are about to change your e-mail address, don't forget to resubscribe to BLN!
Just send a blank e-mail from your NEW address to join-big-learning-news@zoom.netatlantic.com
or fill out the subscription form at http://www.biglearning.org.
---
*******************************************
Fight Hunger
You Visit. Corporate Sponsors Pay. The Hungry Eat.
http://www.thehungersite.com .
*******************************************
---
Shop Big Learning Affiliates (www.biglearning.org/shop-affiliates.htm): You can help keep Big Learning online by entering sites like Target, Gardeners Supply, Hearthsong, and other great merchants through our site. It won't cost you a thing, and some are offering special discounts.

Advertise in Big Learning News or on BigLearning.org. Our rates are reasonable and our subscribers have excellent taste, at least in newsletters. E-mail for rates and other information: info@biglearning.org .


Big Learning News (c) 2005 Karen Cole
All Rights Reserved.