Big Learning News
Karen Cole's Guide to Real-World Learning with Kids
Issue 3:8 March 2, 2005
Welcome to Big Learning News, and a special welcome to our new subscribers.
Visit BigLearning.org for past BLN issues, education headlines, and more!
Subscribe! Send a blank e-mail to on-531@ezezine.com
---
Table of Contents
Math Moment- Flying around the world
Activity: Make a Boomerang
Book Review: What do Illustrators Do?
Web Site: The Gates

---
**** ADVERTISEMENT***
Do you care about your health? Do you care about your family's health? Do you care about the environment?
Would you like to work from home with a company that makes a difference in our world and have a team to help, train and guide you to success?
If you answered yes to any of these questions please contact me through my web site www.athome4myfamily.info
---
Flying around the world
March 3 is the day that Steve Fossett, always referred to as "millionaire Steve Fossett" in the news, is set to complete the first ever round-the-world-without-stopping flight. Lots of math to enjoy in this milestone, including:
the distance flown (large numbers, conversion from miles to kilometers)
the altitude (large numbers)
the speed of the plane (ratio of distance per unit of time)
fuel measured in pounds instead of gallons or liters
the geometry of defining what it means to fly around the sphere we call Earth
Here is the official mission site, but today it's hard to connect to it because everyone is checking up on Steve to see if he landed yet. You can find much of same information by searching for news about the mission.
http://www.virginatlanticglobalflyer.com/
---
Make a Boomerang
Here's a template for a boomerang that really works (you throw it up in the air and it comes back to you). My 6-year old especially loves throwing it - over and over again.
To make it, you just print the template, cut it out, trace it onto the back of an empty cereal box or similar cardboard, and cut the cardboard shape. It's ready to fly.
Here is the link for the template:
http://www.master-designs.com/boomerang/PaperBoomerang.pdf
Here are throwing tips from the same site:
http://www.master-designs.com/boomerang/HowToThrow.pdf
---
What do Illustrators Do? by Eileen Christelow (Clarion Books, 1999)
Ages 6-12
Budding artists will love this smart behind-the-scenes look at the illustrator's process, from concept to completion. It chronicles two illustrators as they work to illustrate the story of Jack and the Beanstalk. Told comic-book style, the book brings out important points about illustration:
Different illustrators can illustrate a given story in very different ways
Each illustration is a problem to be solved - how to make something look big or scary, for example.
Using different tools changes the look and feel of the illustrations
Illustrators sometimes use live models or make faces in the mirror to help them draw realistically
Illustrators revise their illustrations again and again
Illustrators work with editors and designers to improve the illustrations the book as a whole
More Art Books for Kids! http://www.biglearning.org/books-art-for-kids.htm
You can help Big Learning stay online, and it won't cost you a cent. When you buy books from Amazon.com, just enter the site from any of our Buying information or Amazon.com links. We earn a commission no matter what you buy! Thanks in advance for helping.
---
The Gates by Christo and Jeanne-Claude
This past weekend my family and I took a trip to New York City to see The Gates, the latest work from artists Christo and Jeanne-Claude. Consisting of 7,500 saffron-colored gates winding along pathways through New York's Central Park, the installation was as much an event as a work of art. Great crowds of happy people passed beneath the gates as they meandered through the snow-covered park, climbing to the top of every hill to get a birds-eye view of the spectacle. The Gates were up for 16 days through February 27, 2005.
You and your kids may enjoy seeing photos of The Gates and learning all about the installation at the official site:
http://christojeanneclaude.net/gates.html
Here is a picture my husband took: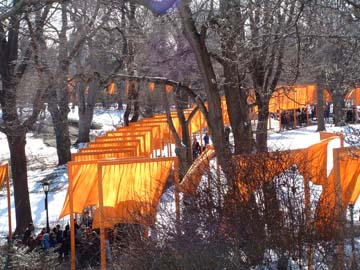 ---
***Advertisements***
Life is only natural, so why not live it more naturally? Let Natural Family Online Journal show you how. NFO is your toolbox for natural family living and natural parenting. No matter what your personal or parenting style, we offer tips, tools and information every family can use! Visit us online every month for a new issue packed with information on natural homes, natural beauty, pregnancy and birth, breastfeeding, health and wellness, education and learning and much, much more. Join our free monthly newsletter at http://groups.yahoo.com/group/Natural_Family_Online_newsletter/join for previews of each month's issue and exclusive, subscriber-only articles. Natural Family Online ... natural parenting tools every family can use.
---
Changing Your E-mail Address? Don't Lose Your BLN Subscription!
Sadly, each week, BLN subscriptions are cancelled because the e-mail address no longer exists. If you are about to change your e-mail address, don't forget to resubscribe to BLN!
Just send a blank e-mail from your NEW address to on-531@ezezine.com
or fill out the subscription form at http://www.biglearning.org.
---
*******************************************
Fight Hunger
You Visit. Corporate Sponsors Pay. The Hungry Eat.
http://www.thehungersite.com .
*******************************************
---
Shop Big Learning Affiliates (www.biglearning.org/shop-affiliates.htm): You can help keep Big Learning online by entering sites like Target, Gardeners Supply, Hearthsong, and other great merchants through our site. It won't cost you a thing, and some are offering special discounts.

Advertise in Big Learning News or on BigLearning.org. Our rates are reasonable and our subscribers have excellent taste, at least in newsletters. E-mail for rates and other information: info@biglearning.org .


Big Learning News © 2005 Karen Cole
All Rights Reserved.